Millerson St Austell scoops Gold
Published on: 26/07/2021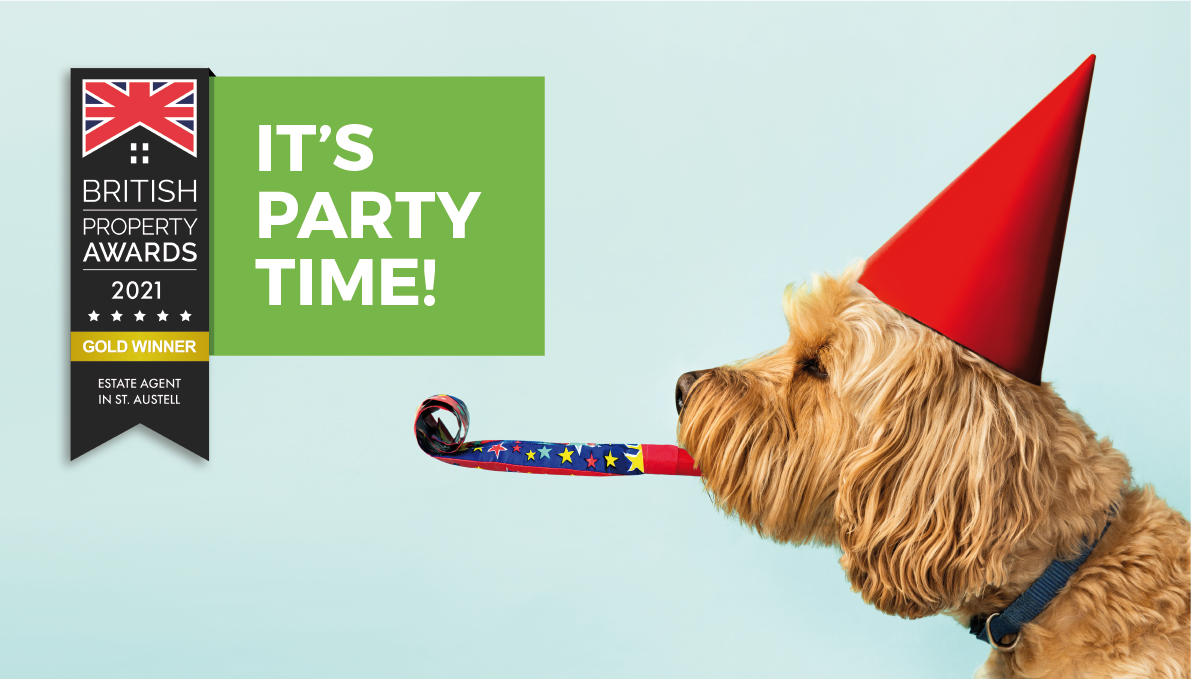 Millerson in St Austell scoops Gold at British Property Awards
Millerson's dedicated St Austell team is celebrating after being confirmed as a Gold Winner at the annual British Property Awards.
Located on Market Street, the St Austell office performed outstandingly throughout the extensive judging period, which focused on customer service levels.
The accolade follows the Helston branch, who also scooped the Gold Award. It also builds on Millerson's success at last year's ceremony when the Launceston office won Gold.
Millerson's network of offices in Cornwall pride themselves on excellent service, providing invaluable and impartial advice to buyers and sellers across the county.
Each team excels in first-class communication with decades of knowledge combined with modern buying and selling techniques.
Jeremy Miller, operations partner at the St Austell branch, said: "We're delighted to claim Gold at this year's British Property Awards. It's a wonderful accolade that truly celebrates all the efforts of our team.
"St Austell is Cornwall's largest town, so this award holds extra significance for us. Millerson St Austell covers the town and the surrounding areas, including the villages of Charlestown, Fowey, Grampound Road, Mevagissey, Polkerris, Par and Goran Haven.
"Our network of branches offers a multi-disciplined business which we believe offers customers all they require whatever their property needs.
"We don't dedicate ourselves to excellent service to win awards – we do it because it's the best way to help our buyers and sellers find the right move as smoothly as possible. That said, it's fabulous to be recognised!
"I am privileged to work with an exceptional group of people who I consider to be extended family. Our ethos of being passionate about property and people is as true today as it has ever been."
What are the British Property Awards?
The British Property Awards are one of the most inclusive estate agency awards providers as they do not charge to enter.
This has enabled their award to be structured in a manner that ensures maximum participation, on average judging over 90% of agents who meet their minimum criteria on a local level.
How are the British Property Awards judged?
The British Property Awards team personally mystery shops every estate agent against a set of 25 criteria to obtain a balanced overview of their customer service levels.
The judging criteria is periods to ensure that agents have been rigorously and fairly judged.
Robert McLean, from The British Property Awards, said: "Our awards have been specifically designed to be attainable to all agents, removing common barriers to entry, such as cost, to ensure that we have the most inclusive awards.
"Our awards have also been designed to remove any opportunity for bias or manipulation. If an agent has been attributed with one of our awards, it is simply down to the fantastic customer service levels that they have demonstrated across a prolonged period of time.
"Winning agents should be proud that their customer service levels provide a benchmark for their local, regional and national competition."
Further awards success for Millerson in Cornwall
Millerson, St Austell have now been shortlisted for a number of national awards which will be announced later in the year.
The British Property Awards provide agents throughout the UK with an invaluable opportunity to compare the service that they provide against the service provided by their local, regional and national competition.
Agents who go that extra mile and provide outstanding levels of customer service are rewarded with our accolade, which acts as a beacon to highlight these attributes to their local marketplace
To find out more about how Millerson can help you, start by talking to us or booking a free valuation of your home. Find out more at https://www.millerson.com/contact
You can also contact the St Austell team directly on 01726 72289.