St Ives is officially the happiest place to live in the UK
Published on: 26/04/2021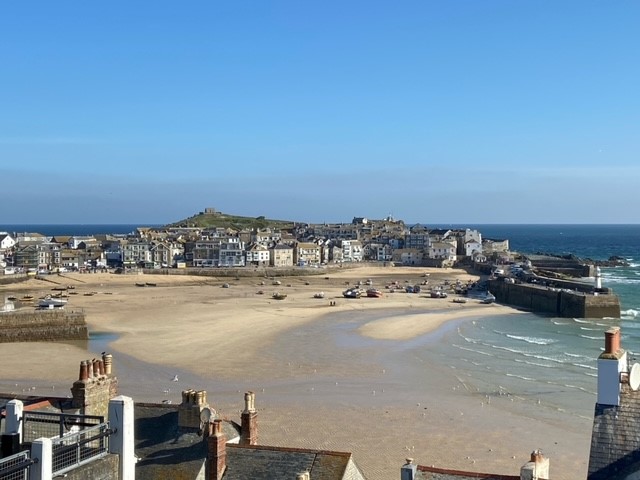 St Ives is officially the happiest place to live in the UK
The beautiful North Cornwall town of St Ives has been named the happiest place to live in the UK.
The idyllic town perched on the stunning Cornish coast has long been one of the country's most desirable locations for house hunters.
And the latest Happy at Home Index by Rightmove shows people who live in St Ives are happier than anywhere else in the UK.
Estate agents in Cornwall have seen demand from house buyers rise across the county in 2021 with St Ives one of the hotspots in the property market.
The Millerson team are experts at making your dream move to Cornwall come true – and we love St Ives! Our agents have years of experience and knowledge of the town's properties. We know all the nooks, crannies and homes to look for.
Paul Le Bas, manager of Millerson's dedicated St Ives branch said: "St Ives is a unique combination of beautiful beaches, fabulous food and drink, excellent entertainment as well as a real sense of community running through its little streets and picturesque lanes.
"There's also fantastic schools, a reassuringly safe environment and plenty for families to do."
Why is St Ives so popular with house buyers?
St Ives has established itself as one of Europe's most desirable holiday locations. So, it's no surprise demand for properties here is increasing all the time.
This stunning coastal vista boasts a maze of charming, cobbled streets, fantastic restaurants and other popular attractions.
Visitors and locals have access to no fewer than five sandy beaches, including nearby Carbis Bay, three of which are award-winning.
St Ives has a real Bohemian vibe, with a fantastic mixture of smaller, independents, high-street names and boutique shops.
Add to that galleries, art shops and delicious food and drink, and we think there's nowhere better to enjoy your sun-kissed summers.
Tony Harris, Mayor of St Ives, says: "This news comes as no surprise to me, nor the local residents, as we all know St Ives is a great place to live.
"Our natural and built environments have always been held to be amongst the very best in the UK and it is of course a pleasure to live in such magnificent surroundings every day.
"It's also no surprise that our town is such a popular visitor destination; everyone wants to sample for a short period of time what local residents enjoy every day."
What are house prices like in St Ives?
In the past year, the average asking price of a property in St Ives was £437,541.
Sold prices over the last 12 months were 13% up on the previous year and 16% up on the 2018 peak of £376,667.
Most sales in the town during this period were terraced properties, with an average price of £390,061. Detached homes sold for an average of £634,768, with flats going for £299,046.
With increasing demand from people wanting to move to St Ives, now is a great time to sell your home.
If you're thinking about putting your property on the market, Millerson can help - and here's how.
https://www.millerson.com/sell
Is the stamp duty holiday affecting demand in St Ives?
Since the Stamp Duty Land Tax (SDLT) duty holiday announcement in July 2020, the ONS, Halifax and Nationwide have all reported a sharp increase in annual house price growth.
And that number also jumped in March 2021 when Chancellor Rishi Sunak announced in his Spring Budget that the £500,000 nil rate band would now end on June 30th, rather than the original March 31st date.
After that, the nil rate band will be £250,000 (double its standard level) until the end of September, before we return to the usual level of £125,000 from October 1st.
The stamp duty holiday has already pushed down the average SDLT bill by some £4,500 since it was implemented last year.
Those buying a property of half-a million or more have saved as much as £15,000.
And it is estimated that around nine out of 10 main-home buyers have been paying no SDLT at all.
Is now a good time to sell my home in St Ives?
Now is the perfect time to sell your home, with the Stamp Duty Land Tax (SDLT) holiday now in effect until June 2021.
The main problem currently is a lack of housing stock in St Ives and the surrounding areas.
Millerson is still seeing a number of people putting their properties on the market, so don't delay.
How do I sell my home in St Ives?
Here at Millerson, each year we help hundreds of people sell their properties (https://www.millerson.com/sell).
We pride ourselves on our unbeatable local knowledge and levels of service.
Millerson has nine Cornwall offices, including our St Ives branch on Tregenna Hill.
Led by Paul Le Bas, our expert team reports that homes are selling fast in St Ives.
We utilise our whole network of branches to make sure your property gets in front of the right people, at the right price.
Selling your property needn't be complicated. We can take the pressure off and do the groundwork for you.
Sellers prefer buyers who at the very least have already got their property up for sale.
Your first step should be to get your current property valued – and Millerson is here to help.
Book your free instant online valuation here.