Stamp Duty & Budget Update
Published on: 04/03/2021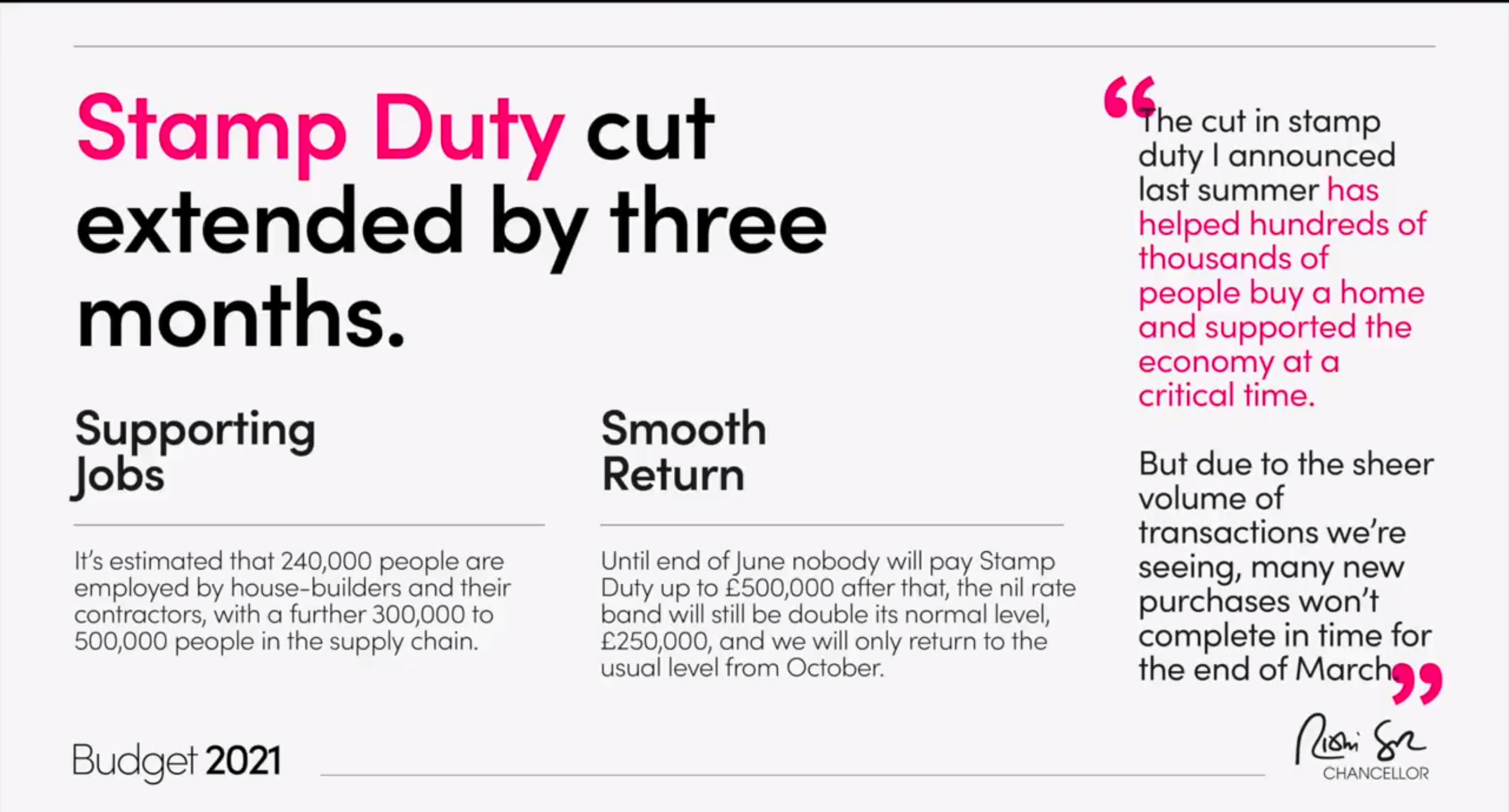 STAMP DUTY UPDATE
On 3 March 2021, Chancellor Rishi Sunak announced that the Stamp Duty Land Tax (SDLT) holiday will be extended until 30 June 2021 after facing pressure to extend the deadline by three months amid concerns of a 'cliff-edge' come the end of March.
In the 2021 budget, Sunak confirmed that buyers hoping to make the most of the savings of the higher £500,000 nil-rate band will now have until the end of June to complete sales in England and Northern Ireland. From the end of June until the end of September 2021, the nil-rate band will reduce from £500,000 to £250,000.
SAVINGS CONTINUE UNTIL 1ST JULY 2021
This comes as a huge relief to homebuyers who were hoping to take advantage of the holiday, yet with the initial deadline looming, were not so optimistic about the transaction completing in time.
The holiday was intended as a stimulus for the property market, and many buyers were encouraged to enter the market as a result. Many homeowners escalated their plans to move in order to make the deadline and benefit from the tax relief. In fact, according to Zoopla, in the last quarter of 2020, there were over 140,000 more people in the process of purchasing a property than there were in the previous year, with an estimated 418,000 home sales progressing to completion.
CONTINUED SAVINGS UNTIL 1ST OCTOBER 2021
Rightmove property expert Tim Bannister said: "This three-month extension will come as a huge relief for those people who have been going through the sales process since last year and were always expecting to make use of the stamp duty savings."
ARE YOU HOPING TO BUY?
It is super important to get your ducks in a row – if you find the perfect property to buy you will need to be in a good position to win it. What is a good position? At the very least you want to have your property on the market, even better is to be on the market with a mortgage in principle and the best is to be under offer to a buyer… this means you could be the best choice of buyer for the seller of your dream home.
SDLT explained
The initial threshold is where SDLT starts to apply. If you purchase a property for under £500,000 before the June deadline, there is no SDLT to pay.
On purchases over the £500,000 threshold, buyers will pay a 5% SDLT on the portion from £500,001 to £925,000, 10% on the portion from £925,001 to £1.5 million, and 12% on any portion over £1.5 million. 
Visit gov.uk for more information
On property purchases from 1 July to 30 September 2021, the SDLT threshold on residential properties will be £250,000. From 1 October, and the SDLT threshold will be £125,000 for residential properties.
First-time buyers
From 1 July 2021, if you, or anyone else you're buying with, are first-time buyers, or if the purchase price is £500,000 or less, you will get a relief that means you'll pay less or no tax. You'll also be eligible for this discount if you bought your first home before 8 July 2020.
If you are ready to get moving, get in touch with Millerson today and let us help you start your moving story!